IXS2007
6th International Conference on Inelastic X-ray Scattering
Scope

IXS2007 will cover a wide range of topics in the field of inelastic x-ray scattering, including electronic resonant and non-resonant scattering, meV-resolved atomic dynamics, nuclear resonant methods, and Compton scattering. Theoretical calculations will also be addressed. The conference will deepen our understanding of inelastic x-ray scattering, a set of techniques that have demonstrated their great potential to contribute to condensed matter physics, geophysics, chemistry and bio-physics.
The conference is intended to provide a forum for presenting new research and exchanging ideas about scientific applications and technical developments. It will promote scientific collaboration combining the different techniques. Presentations will consist of plenary, invited, and contributed talks, and a poster session, all scheduled so as to provide ample time for discussion.
Dates
May 7 - 11, 2007
Venue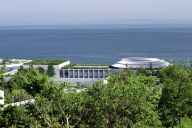 The conference venue is the Awaji Yumebutai International Conference Center on Awaji Island. It is located 30 minutes from Kobe and 90 minutes from Kansai International Airport (KIX) by bus, via Akashi-Kaikyo Bridge, the longest suspension bridge in the world.
Organization
Chair : H. Kawata (PF/KEK)
Host : JASRI/SPring-8, JAEA/SPring-8, RIKEN/SPring-8, PF/KEK